Residential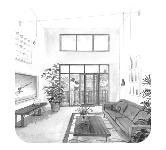 Click here to view our "Residential Project Gallery"
We, here at AMCO Fire Protection, Inc., specialize in the professional layout and installation of residential fire sprinkler systems in single family and multi-family homes. Now with the use of alternative materials, systems are becoming more common and much more affordable.
Did you know 80% of the approximately 4,000 fire deaths recorded annually in the United States occur in residential occupancies? Fire sprinkler systems provide the ultimate protection from fire to help save lives and property. Fire sprinkler systems will extinguish a typical residential fire in less than one minute, thus dramatically improving survival rates and minimizing property damage.
A common myth about residential fire sprinkler systems is that they will activate or leak for no apparent reason. The only reason a fire sprinkler head will activate is if it was accidentally damaged or vandalized. The fire sprinkler system in a dwelling unit can be hydrostatically tested under 200 pounds of pressure for a period of not less than 2 hours There is almost no chance that a fire sprinkler will accidentally discharge.
Another myth is that all of the sprinklers go off in the event of a fire. Sprinkler heads are heat activated, so only the sprinkler heads at the fire will open, usually 1 or 2 sprinklers. Common residential fire sprinklers are rated at 155 F. Residential fire sprinkler systems discharge approximately 12-25 gallons of water per minute compared to the fire department's 250-500 gallons a minute on a fire.
A fire sprinkler head also responds almost immediately thus saving lives and precious valuables that may not be saved while waiting for the fire department to arrive. Today's fire sprinkler heads are designed to blend in with the ceiling thus becoming almost invisible. And by installing a fire sprinkler system in a dwelling unit, the occupant may be able to save up to 10-15% on fire insurance premiums. NFPA statistics show that smoke detectors combined with a fire sprinkler system reduce the chance of loss of life in a fire by 82% compared to smoke detectors alone at 48.5%.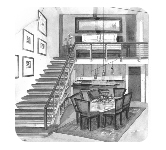 We cater to all phases of the residential market, including single family, housing for the elderly and "high-rise" apartments. We offer full service residential sprinkler systems including budget estimates, firm quotations and quality installation all backed by 24-hour service.
We have a complete staff of experienced engineers, pipe fitters and servicemen. All of our work is guaranteed by a full coverage construction and liability insurance policy.
We offer low profile, high-tech, aesthetically pleasing residential fire sprinklers which are available in a variety of finishes. We normally install "extended coverage" sprinklers to reduce the quantity of sprinklers necessary.
Typical residential sprinkler systems are installed in accordance with the National Fire Protection Association's single family code, NFPA 13-D. Residential fire sprinkler systems in multi family residential homes up to four stories in height are installed in accordance with NFPA 13-R.
Residential fire sprinkler systems provide coverage throughout the entire home, excluding small bathrooms (under 55 sq. ft.), small closets (under 24 sq. ft.), attics, and garages. The pipe feeding the sprinkler heads is run inside interior walls of the home. Concealed residential fire sprinklers can be installed in finished basements, and first floor areas where there is heated living space above. Sidewall sprinkler heads protect 2nd floor rooms (or 1st floor rooms with no heated space above).
---
Facts About Residential Fire Sprinklers
Fires kill more people in the United States every year than all natural disasters combined and 80% of fire deaths occur in the home.
Of the 2.5 million fires reported each year, 500,000 of those occur in residential structures. Having both residential fire sprinklers and smoke detectors will increase the chance of survival in a fire by as much as 82%.
Sprinkler heads are individually activated. Heads operate when heat reaches around 165 degrees (the heat of a fire) and neither smoke nor smoke detectors will set one off.
In 90% of residential fires, the activation of 1 sprinkler head is sufficient to control or extinguish the fire.
Concealed residential fire sprinkler heads can be installed throughout most 1st floor rooms in 2 story homes.
Residential fire sprinklers save money for builders, homeowners and the community.
Trade-offs between residential fire sprinklers and code requirements can result in lower construction costs more units per area of land, etc.
---
Do's and Don'ts For Your Residential Fire Sprinkler System
DO:
Have your system inspected annually
Know the location of the control valve
Make certain the control valve is open at all times
Contact the fire department if any activation occurs, even if the fire has apparently been extinguished
DON'T:
paint the fire sprinklers
damage the fire sprinklers
hang objects from the fire sprinklers
obstruct or cover the fire sprinklers
turn off or disconnect the fire sprinkler system
shut off fire sprinkler system in the event of a fire
* In the event of a fire, be calm and leave your home immediately. Call the fire department from a neighbors house instead.
---
Frequently Asked Questions Regarding Residential Fire Sprinklers

What about water damage?
A sprinkler head discharges far less water than a fire hose, and begins to control the fire long before the fire department arrives. Many insurance companies offer discounts to homeowners with sprinkler systems for these reasons.

What if a sprinkler head accidentally goes off?
Sprinkler heads do not activate without cause. The heat of a fire will activate each sprinkler independently, setting off the discharge of water. The chances of accidental activation are 1 in 16,000,000.

What if no one is at home?
The network of pipe is connected to a flow switch, which monitors any flow of water through the system. This switch is wired to an inside bell, and can also be wired to an outside horn/strobe or a security system alarm panel.
Note: Having a flow switch and bell is an excellent idea but they are not required by NFPA 13-D, however they may be required by your local government.

Is there maintenance involved?
The sprinkler system will have a 1 year warranty from the time it is put into service. We recommend having the system checked annually, to ensure valves and devices are functioning properly. The sprinkler heads do not require maintenance.

How much does a home fire sprinkler system cost?
On average, home fire sprinkler systems add 1% to 1.5% of the total building cost of the new home. The cost is approximately $1.00 to $1.50 per square foot in new construction. It is also possible to retrofit existing homes with sprinkler systems. The cost to retrofit is normally higher ($1.50 to $2.50 per square foot) compared to installing residential fire sprinklers in new construction but is still a viable option. Over the life of a mortgage, the cost of installing sprinklers is around $3/month which is a wise investment considering insurance savings, reduced property loss and increased safety.